Ever since Penguin brought in the
Popular Penguins
range I've been reading more books, especially classics like
Pride and Prejudice
, Sherlock Holmes and
Tales of the Unexpected
(which is amazing, Roald Dahl is a genius). Because they're so cheap, $9.95 each, I don't balk at buying titles I haven't heard much about. Sometimes it backfires and I've now got some awful books on my shelf (
The Haunted Hotel
was not to my taste) but sometimes it works out for the better. For example: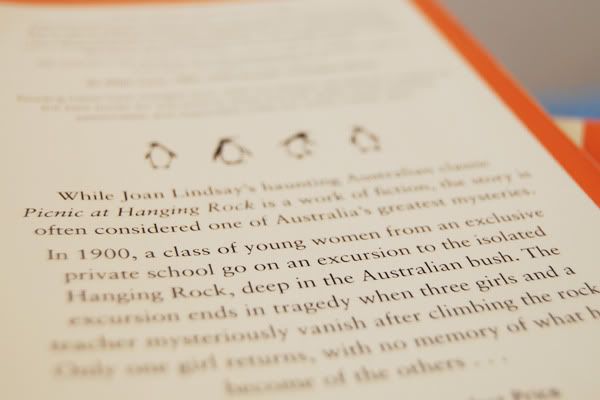 I hadn't actually head of
Picnic at Hanging Rock
by Joan Lindsay until I saw it on the shelf at the bookstore. I don't know why, because it's an amazing book; I read it all in a day on the weekend before my final two HSC exams (I could not put it down). It's wonderfully eerie and not to mention well written - those sticky tabs are marking some passages I thought were gorgeous (and trust me, I'm not usually
that
much of a literary nerd). So if you ever come across it, I definitely recommend that you buy/borrow it. It's a thin little book, so it would make for a nice afternoon on the couch. There's also a
film adaptation
of it I've been meaning to watch (apparently it's very good).
In other news, my dad brought home a box of my favourite chocolates
ever
.