Because that sounds more interesting than "glasses". I finally ended up getting those glasses I need that I mentioned a few posts ago. I ended up going with
Rachael
's idea to get them online, from
Bonlook
, after trying on a billion pairs in store that were either ugly on me or too expensive. I remember Bonlook promoting around the blogosphere a few months back, but I never really took notice until Rachael's comment, since I hadn't needed glasses. Anyway, theses were the most suitable pair I could find for my huge round face, and the price was pretty reasonable.
I got the "Urban Dandy" ones. I couldn't decide between black or tortoiseshell, but I figured I'd go with the latter... just for kicks.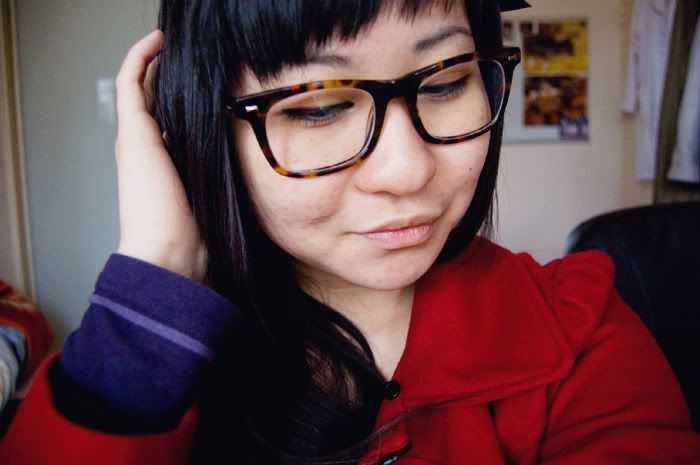 I'm not photogenic, so I really had to work those angles. This is why I am not a fashion blogger.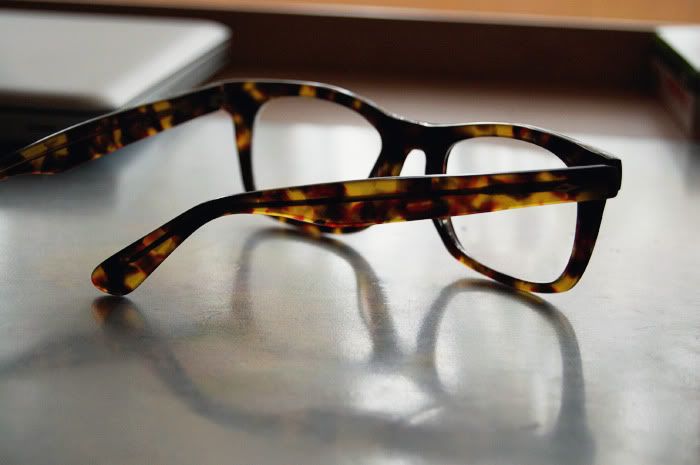 Throwing in a picture of what I wore the other day. Winter's been lingering for a while, but soon enough I'll have to ditch the coat, which makes me sad, because I really like coats. This red one was from Forever21, and for all their reputation of mass-manufacturing cheap clothes, it held up surprisingly well despite the fact that I wore it around all winter. Definitely going to try and score another nice one in the nothern-hemisphere end of season sales for our next winter!