A few weeks ago, I learned that my bank account never, ever stood a chance against the combination of 2am-itis (you know, the weird lonely feeling you get when you're up in the middle of the night because you can't sleep), a credit card, and a
Modcloth
sale.
Well, technically, only one of the dresses I bought were on sale, but I'd had my eye on the other two for a while and combining shipping works out better (can you tell I'm still trying to justify buying all this to myself?). I didn't realise until afterwards that everything was polkadotted!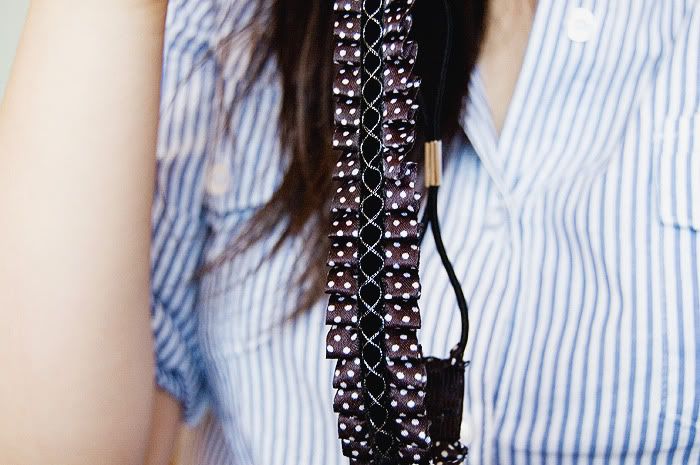 They even gave me a little gift of this headband (polka dot as well!) with the rest of my order. Modcloth are probably one of the nicest online stores - not only because they carry cute clothes and have a good review system, but because their customer service is the best ever (and I've bugged them a lot). I'd definitely shop there more often if the shipping wasn't so expensive.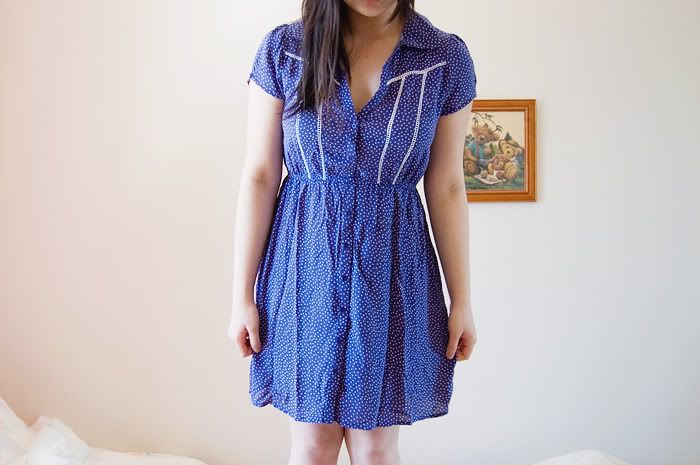 #1. I finally worked out a way I could get a whole outfit (maybe not shoes) into a shot: putting my camera in an open cupboard and jumping up onto my bed - hence the weird, teetering pose I'm striking. It took a while to get a good shot, so I gave up on the method for the next two dresses. I know what you're thinking - how could I take outfit pictures standing on a bed without taking at least one jumping shot? Well, I did try, but the dress is too light and kept flying up to reveal a lot more leg than I'd like to show on this blog... maybe next time.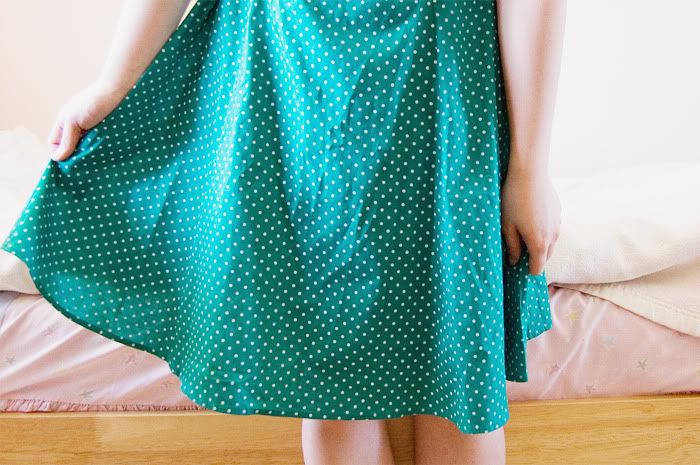 #2. None of the full-body shots of this dress came out focused... too bad! It's basically a shirt dress with a circle skirt. I have this dress in solid purple, I love it (obviously. I mean, if I hated it I wouldn't have bought another one). Also showing off my starry ballerina bedsheet.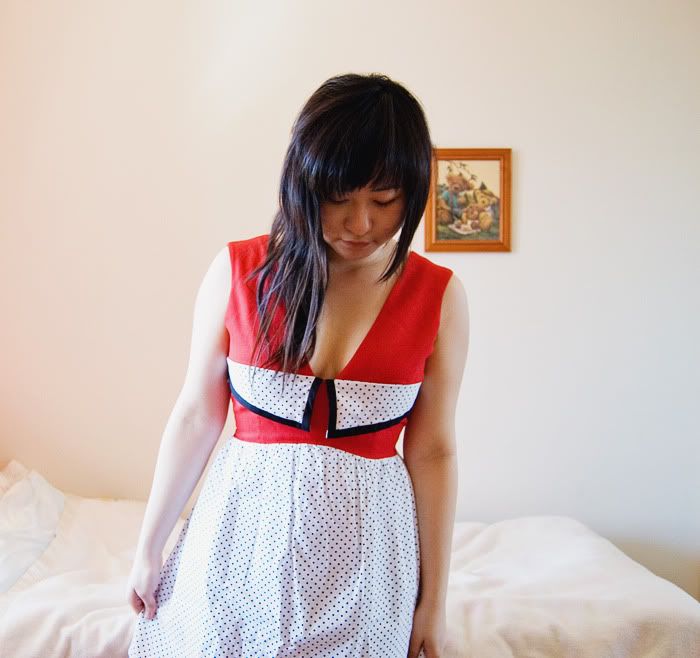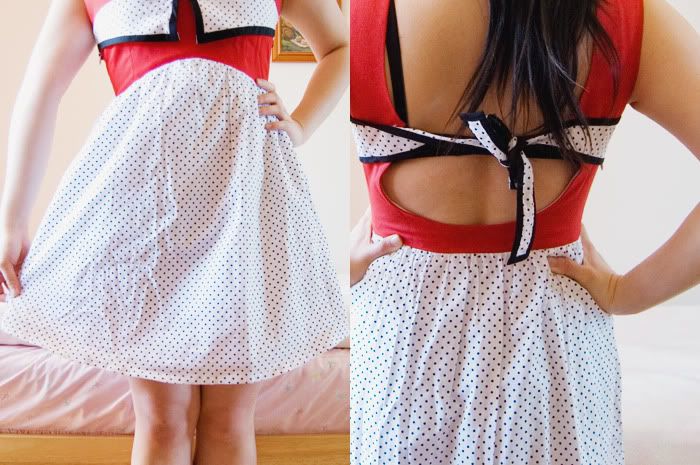 #3. And finally, the dress I never meant to buy. It's a Tofu brand dress, and they're generally pretty pricey, so if it hadn't been on sale I would've looked, admired, and moved on. Except it was about 70% off and in my size, so obviously, fate meant for me to have it. I'm not entirely sure where/when I could wear it, because, as you can see, the front and back are pretty low cut, so it's more of a party dress. The thing is... I don't go to parties. I never get invited I would rather stay home... with a cup of tea... and blog. (Yes, that rogue bra strap in the picture of the back detail is killing me, I did consider photoshopping it out). Also, my hair's looking pretty ratty, isn't it? I'd make an excuse, but, well, that's what it always looks like.

Thus concludes what may be the most awkward series of outfit shots you've probably seen today. Fashion bloggers, how do you do it? I'm still feeling very guilty over this haul, so I'm banning myself from buying anymore dresses and shoes. Although I'm probably going to somehow find exceptions to this rule.

I'm off to bed now, hope you guys have a good weekend!