Mel,
YY
and I were in the city yesterday and decided to hit up
Outpost
. It's a street art exhibition on
Cockatoo Island
, one of the Sydney Harbour islands. It has a bunch of old, abandoned industrial sites, so it was the perfect setting. I'm not into street art, but I really enjoyed it. It's free (well, you have to pay for the ferry ticket), so if you're looking for something to do in Sydney, check it out!
The ferry ride over was fun (apart from the touch of nausea I got from the boat). We kept wondering what it'd be like to be rich enough to live in one of the houses on the harbour!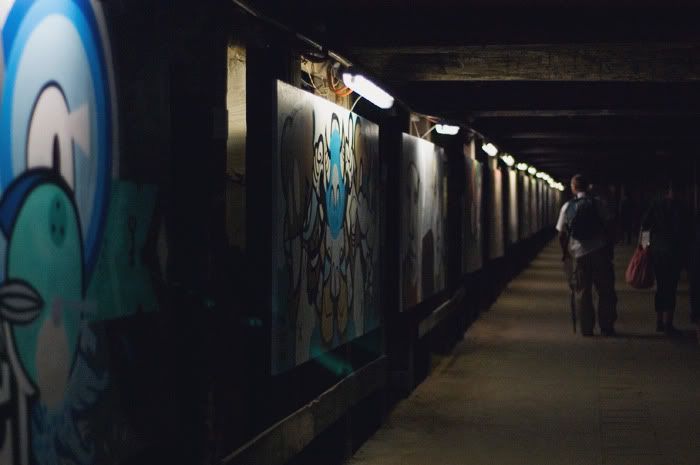 Paintings in Dogleg Tunnel.
I loved the use of the old warehouses, it was really atmospheric (
fs
) / T shirt exhibit (
fs
) / skull on a house (
fs
) /outdoor sculpture.
Warehouse (
fs
) / paintings (
fs
).
Bit of a gloomy day, really, but it was fitting.
After we got back to Circular Quay, we grabbed something to eat/drink at Hart's Pub (best chips) and went to the Guylian Cafe at The Rocks. Generally, we don't go to places like that because it's just so expensive, but I suppose we were in a bit of a splurging mood.
We shared the degustation plate, which means you get a little bit of everything. It was
amazing
, we were basically in a chocolate coma afterward. My favourites were the hazelnut ice cream and the dipping chocolate (which we proceeded to put on everything).
Then we caught fireworks (I'm not sure what they were for) as we walked to Circular Quay station. Best day!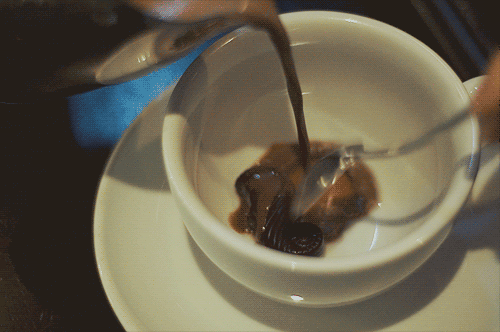 Some gifs to top the post off: hot chocolate/fireworks.
I finished my exams (relatively unscathed) on Monday, so I'm free for an entire 3 three and a half months now! I'm
so pumped
.