The Christmas Eves in the last few years were pretty uneventful for me, so this year I figured I'd round up a bunch of friends (who didn't already have family commitments) and go out to dinner. We picked out Jamie's Italian (Jamie Oliver's chain restaurant which recently opened in Sydney) - I'd heard about the queues, but we got there quite early and it was pretty empty. Most of my pictures turned out badly because of the low lighting but YY was there and her hands are
steadier than mine, apparently
.
I had pasta carbonara and it was really nice! Better than your basic carbonara because the flavour of the sauce was pretty intense.
The "posh chips", which are chips with parmesan and truffle oil (Charlie and Co in Westfield do them as well). They were okay, I suppose; pretty cheesy but the chips weren't that great and the portion was tiny.
Dessert: chocolate brownie with raspberry, amaretto, and vanilla ice cream. It was way too much; I couldn't finish the brownie. Definitely should be shared!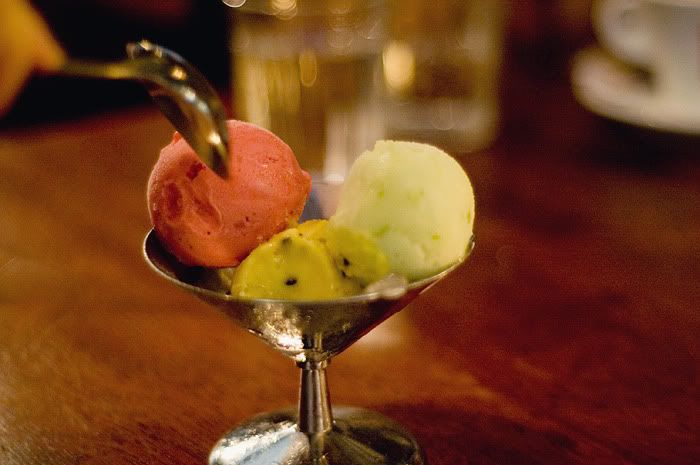 Carrie had the right idea and got sorbet for her dessert.
Afterwards, we wandered down to sit by Circular Quay for a while (we always end up here, or in Maccas, but we were way too full for McDonalds). Carrie and Mel left early but YY and I sat until it was almost dark (it was past 8 - the days are so long, it's getting confusing).
Melany and her owls.
Carrie and her camera.
Full shot of my Christmassy outfit, thanks to
YY
again (sorry for the massive picture - I have this thing where I need every picture on this blog to be 700px wide). We all agreed to add a bit of festivity to our outfits; the others just wore touches of red but I went in with the green as well. I felt a little over-Christmassed, but then I saw a bunch of girls dressed like Santa (if Santa ever wears minidresses), which reassured me a bit.
I have pictures from Christmas Day, which are coming soon. Hope everyone's having a fabulous holiday season! I braved the Boxing Day sales today but I came out with nothing to show for it... I'm too impatient to deal with crowds and lines of that size.