I'm not that big of a make-up fan. Just give me any black eyeliner and something to make my skin look somewhat passable, and I'm happy. A couple of years ago though, I went through this "lipstick phase" and it's been revived in the past few weeks. My favourite lipstick (well, the only one I owned at the time) was running out so I took to ASOS and got two of the Kate Moss for Rimmel ones. By the way, for my fellow Australians (if you haven't realised already): makeup is way,
way
, cheaper online.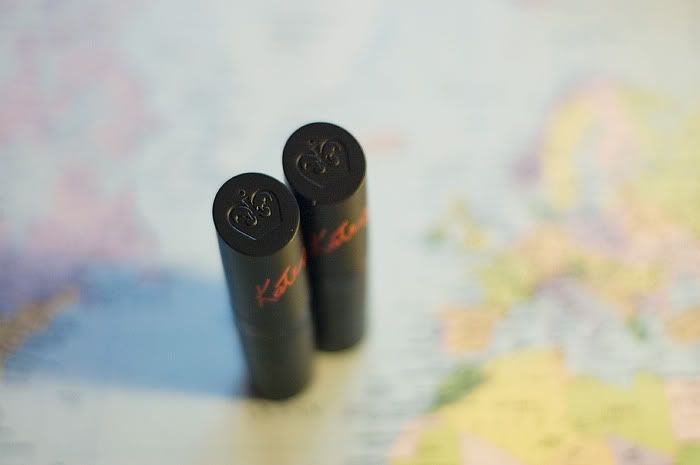 01 is a red. 04 is a dark purple, which I got cause I was feeling adventurous. I wish they had better names for the colours (puns are always good).
Here are two webcam pics from when I wore them out (notice the same dress on different days. Please don't judge me). To make up for past indiscretions, I haven't been wearing lipstick with any eyemakeup (when I was 15 I honestly believed heavy eyeliner with bright lipstick was a good daytime look).
I can't say that the "feeling adventurous" gamble paid off because 04 is really hard to wear - it makes my skintone look odd when my clothes are anything other than black. So then I end up looking like some 13 year old mall goth (although judging from my last post, this is probably my true self).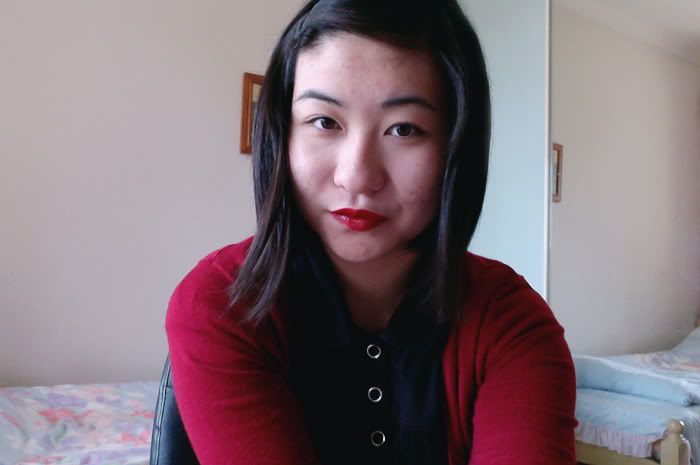 So 01 is basically... red (blue red I think?). I think I like more orange-reds better.
The eagle-eyed of you will noticed that I've cut my hair (literally. I cut it myself). My hair has a complicated and tragic past (I'm just being dramatic here) that I will explain after I grow it out a bit more and get it done by an actual hairdresser.
In other news, Deluminators turns 1 today! Thanks for reading and following, I've greatly enjoyed
oversharing
blogging this year. It still amazes me when I lurk my stats (haha) and see people from places on the other side of the world visiting my blog!