On Monday night (yes, my posts are lagging) I went out for dinner with a couple of friends, some of who I hadn't seen in an age. Everyone's finished uni for the year now, and I'm hoping to do more catching up around people's work commitments and overseas trips. We ate at this Japanese noodles place (you might remember I generally don't like Asian food, so I complained a little bit) and then had dessert from Mother's Crepe.
Me on the left, and WL. The reason there are always blurry pictures of me is that my camera doesn't autofocus prime lenses, so that it's a bit hard for my friends (who aren't used to them) to use.
Afterwards, we headed to Darling Harbour. They've finished with renovating Darling Walk, and it's called "Darling Quarter" now. I'm not sure I like the new one, I'll need to see it in daylight to pass proper judgement. But they've got this cool new interactive water feature and an awesome new playground, complete with giant slide.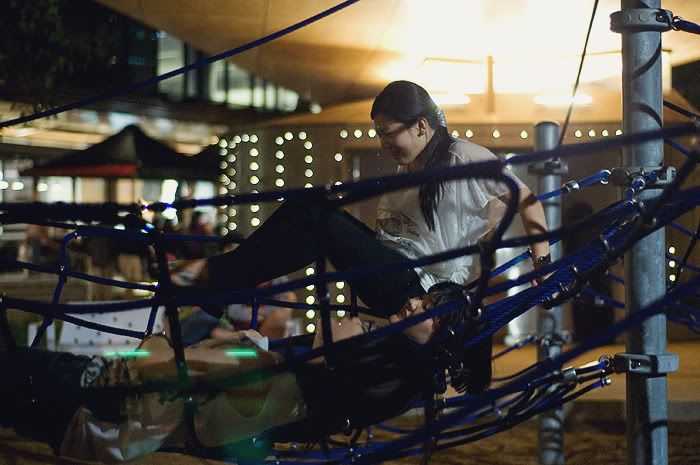 Unfortunately, there was not much clambering around for me, since I was wearing a really short floaty skirt and wasn't fond of the idea of showing the world my undies. I'm definitely gonna throw on a pair of shorts if we're going again!
They've thrown up the Christmas tree in QVB. I'm looking forward to the lead-up to Christmas when all the shops are open super late; I love the busy atmosphere.