Happy new year! Here's what I got up to on NYE. For NYE 2010,
I sat on the Opera House in 30C heat all day long
; I did
not
feel like doing it again (although the summer's been mild). We didn't really have proper plans this time so it turned out to be pretty random.
I don't own any clothes that are sparkly or sequined, so I chose this dress for its shiny buttons. And if you squint, I suppose the floral could be fireworks (no, really, squint harder).
First stop was Jenny's. Took advantage of her almost blank wall (notice those ridiculous rabbit pictures) and conveniently placed dressing table to continue my camwhoring. I really like the cutouts on the back of the dress but it was a bit too chilly to go without the cardigan.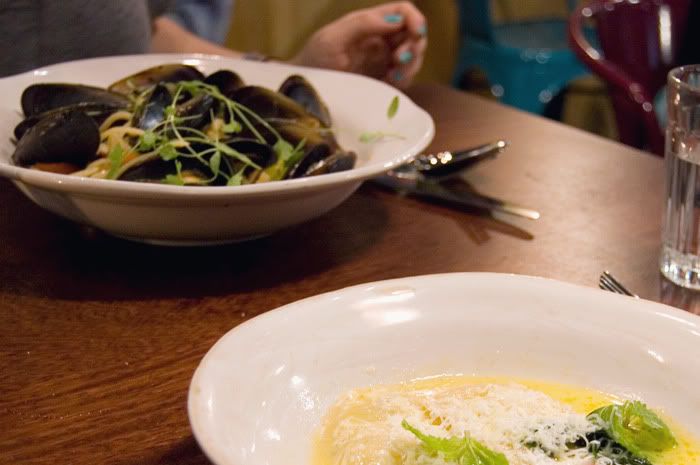 After meeting up with YY and WL in the city, we had dinner at Jamie's Italian (again). The waitress recognised me.
Awkward
.
We then ambled down to the Rocks because we wanted to see the fireworks. It was pretty crowded when we got there, and we thought we got a pretty good view considering that we were relatively late.
The 9 o'clock fireworks weren't that great and I didn't get any good pictures. At this point, we figured that we couldn't be bothered to stay squished up in a crowd for another 3 hours for a mediocre view of the midnight fireworks, and decided to bail.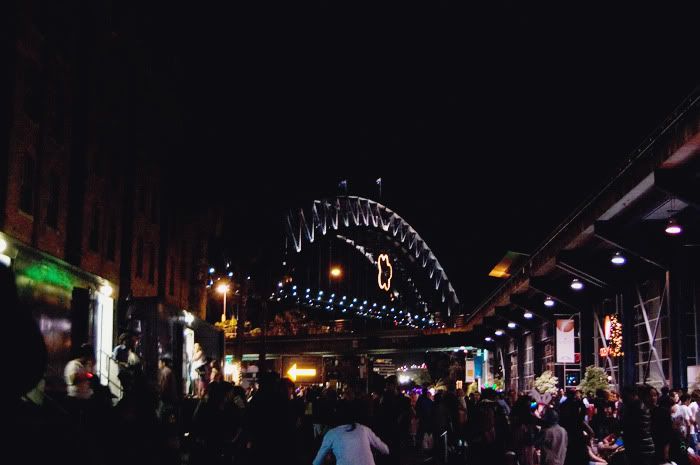 Turned out that the view would've been better 100 metres further back.
It took us
ages
to fight our way out of Circular Quay. Although you can't tell from these pictures, I always think the streets of the city on NYE after fireworks look like the setting of some sort of apocalypse movie, because of the crowds walking on the roads in the same direction.
We didn't really know what else to do, so
like the total losers we are
we decided to just go to Jenny's and watch the midnight fireworks on TV (while snacking our way into 2012).
Hope you guys had a good NYE! This morning I was feeling a bit sorry for myself but I've decided that this needs to stop and now I'm ready to meet 2012 head on! I was pretty sulky all throughout 2011 really, I've got to be more positive this year. Looking forward to another year of blogging here.