Here are my most recent online shopping spoils - a jumper I picked up on sale from ASOS, and a couple of books. I haven't actually been buying much - it's all spring and summer fashions in the northern hemisphere right now.
Everytime I buy something from ASOS, I tell myself I'm not going to buy from them again, because the pieces I get almost always disappoint me. But then they send me a discount code (sneaky) and I'm all over their sale section (the free shipping also helps). The jumper wasn't really an exception to the rule, but it fulfils the criteria of what I was looking for - cable knit, round neck, 100% cotton.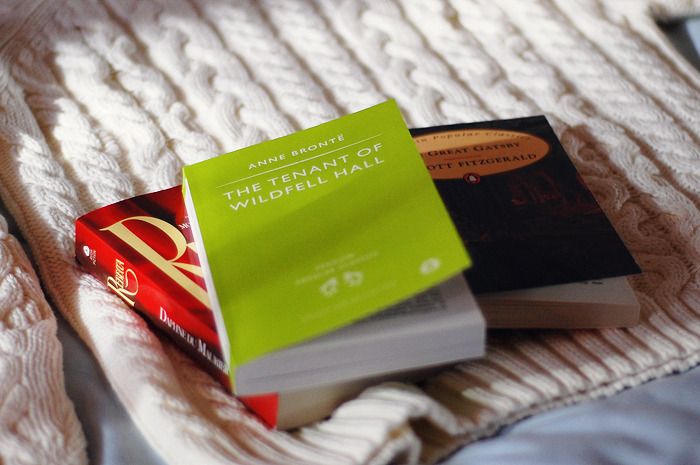 The Great Gatsby
- F. Scott Fitzgerald. I decided to get onto it and read this before the new film comes out, and I finished it just in time for the trailer. I'm not sure how I feel about it. It was a good book, but all I got from it was that it was about rich people I couldn't relate to.
The Tenant of Wildfell Hall
- Anne Bronte. I thought I'd give the third Bronte sister a chance. I'm halfway through the book and really enjoying it, actually. English countryside, old house, mysterious lady, epistolary form and a ridiculous narrator who doesn't know he's ridiculous? I'm there!
Rebecca
- Daphne Du Maurier. I haven't read it yet, but it came up on my Goodreads recommendations and it sounds like a fun read, so I thought "why not?"
Putting this together while watching the Eurovision final (shh, don't spoil me!). I love Eurovision, it's one of my favourite television events of the year.