Last weekend, I went for a bit of karaoke and food (always with the food) at Mizuya (this Japanese restaurant on George street, opposite the cinema) with a couple of friends. They have these karaoke rooms with a touch screen food ordering system, it's pretty fun! I also like this place for karaoke because they have the actual music videos for most of the songs, not the totally random ones you get with other places.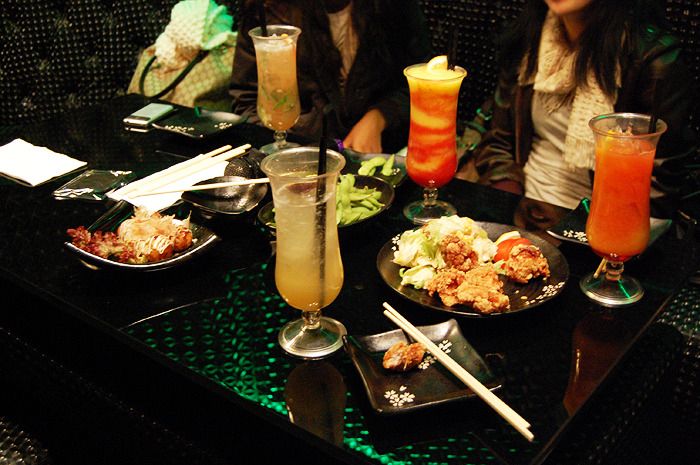 A lot of the menu options were seafood, which gives me breakouts, so I mostly nibbled on edamame beans and chicken karaage (I had to google the spelling for that) and these fried cheesy potato things (which I don't think is legit Japanese food). My friends really went in for the takoyaki though. The desserts there are also fun (especially if you like green tea ice cream... which I don't really. I know what you're asking, what am I even doing at a Japanese restaurent?).
Classic pop songs are always the best, and good to break the ice with. The only thing with this place is, they bring your food into your room and it's a bit embarassing if you're all singing (a better word might be shouting... or caterwauling) along to Britney at the top of your lungs.
Golden karaoke moments:
Not being able to get through Carly Rae Jepsen's Call Me Maybe properly because the guy in it is hot (is he going to be topless for the entire video?).
Discovering how tremendously enjoyable singing along to One Direction is, and feeling disgusted as a result.
Singing "My Heart Will Go On" with two people re-enacting that scene from Titanic... to have the waiter come in and ask if they could please not stand on the furniture.
The last week has been incredibly tiring for no specific reason. I'm off to bed early now because I'm going to have brunch (brunch! I'm going to end up having lunch afterwards anyway, I bet) tomorrow in the city at a time when I usually am only starting to wake up on the weekend.