Or what we call honeycomb in Australia. Not sure why, since there are
better names for it
like "cinder toffee" and "sea foam". Anyway, I love the stuff, so ever since
YY
linked me to this
Nigella video
I've been wanting to try and make it myself.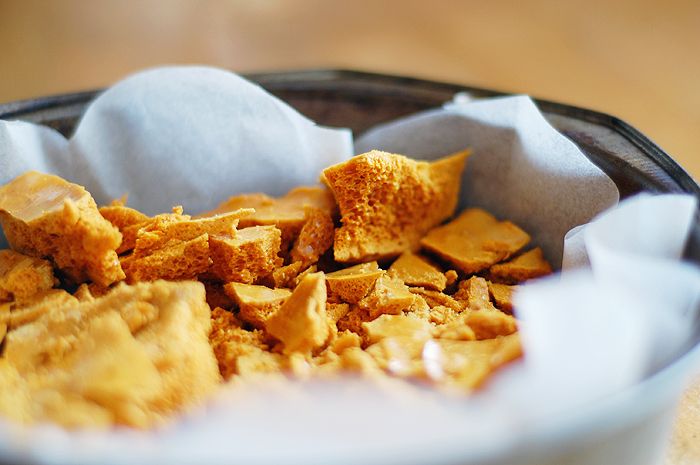 You only need three ingredients: 4 tablespoons of golden syrup (I've heard honey works too), half a cup of sugar and 1.5 teaspoons of baking soda (sodium bicarb). See the video for the details, but basically what you do is heat the syrup and sugar together for a while, then add the baking soda to make the bubbles. Pour it out to let it set (takes about 20 minutes) and then break it up. Some tips from me:
To check if the sugar-syrup mixture is ready to take off the heat, use the hard crack test.
Nigella pours it out on a flat surface, but I poured it into a cake tin lined with baking paper. I would say this is a better idea, so it doesn't spread out too flat if you didn't get the measurements exactly right.
It's quite easy to break up, you don't need a hammer! Just tap it with the blade of a butter knife.
To clean up: boil some water in the pan you used to dissolve the residue.
Mine turned out surprisingly well! It tastes just like the honeycomb inside Crunchie bars, except a little too chewy and sticky. I think this might be because I didn't heat it enough, or I put in too little baking soda.
I then decided I'd take out a couple of the bigger pieces...
And cover them in chocolate.
So this is how I celebrated the end of exams. I thought today would never come. Three months of relative freedom ahead of me! 10 days til I leave for the USA! Going to try and catch up with everyone in between work and running errands. Unfortunately, the weather is going to be pretty terrible: hot and rainy. I mean, what can you even do with that?