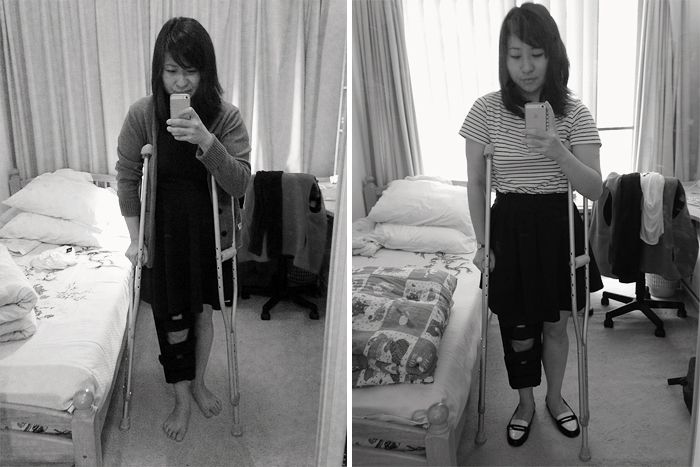 So on Tuesday night... this happened. I was happily on a run (yes you read that right, I'll explain later) when I accidentally stepped down on the place where the concrete footpath and the grass meet. My foot slipped and I felt my left knee go
crunch
. My train of thought for the next minute or so went something along the lines of "**** **** **** **** ********** not again", because this is the fourth time I've wrecked this knee, which has been weak ever since I first dislocated it when I was 12. According to the doctor in ED it's just a bit of a meniscal (cartilage) tear this time, so I'll (hopefully) only have to wear the splint and crutches for a week.
So about the running - back in February, I downloaded this app called C25k (Couch to 5km) because I figured I should try running, since it was one of those things I never really got the hang of. It's a training program where you run three times a week (at varied walk/run intervals) for 8 weeks, at the end of which you're supposed to be able to run 5km or 30 minutes. I found it really good because I'm one of those goalsetting/check-things-off-a-list people. This week was the last week and Tuesday I was on my
second last
bloody run. A few days before, I'd already been able to jog for 28 minutes straight (which I have never, ever, in my whole life been able to do before). So to make this thing a billion times more frustrating, I
just
missed out on finishing the program, and I'll probably have to train for a couple more weeks before I can get back to where I was.
I'm not even surprised really, because it's exactly the kind of ridiculous thing that would happen in my life.