Or, I Never Want To Go Through Another Winter Without Black Boots Again. After I finally admitted defeat and faced the fact that the Chelsea boots I already had were too small for me, I set about looking for a replacement. I thought I'd found them in the Topshop ones I posted several entries ago, but the heel feel off after the first wear, so back they went. Then I ordered a pair from another site, and got an email telling me they'd actually sold out. Noo! But I decided to take a look on ASOS and voila, a likely-looking pair from Dune.
I'd never actually heard of Dune before but this pair of boots had good reviews on their
site
, so I gave 'em a chance. And they are beautiful! Comfortable too, with better arch support than those dodgy Topshop ones. Not only that, I wore them out last night and both heels stayed on. Score. I'm in love. If Dune are actually known for having crappy shoes, don't tell me, because I want to enjoy the honeymoon.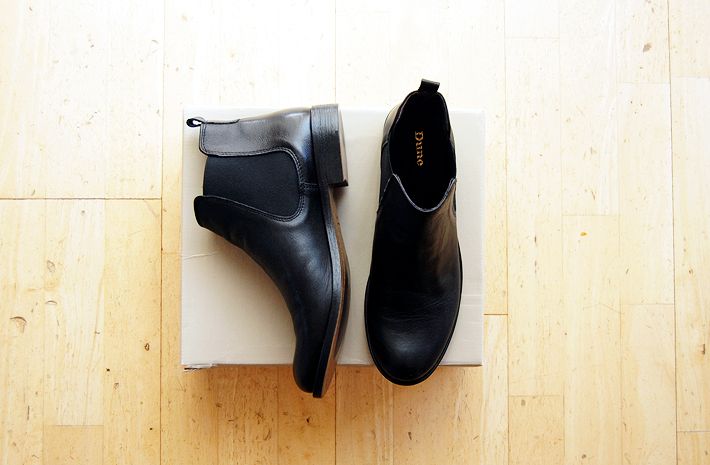 I reckon black Chelsea boots rank above my loafers and Docs on my necessary-shoes list. It was actually really hard dressing myself over the winter-of-black-boots-deprivation, because loafers aren't preferable in the rain and Doc Martens are just not appropriate in some settings. The weather's warming up quickly (it seems that Sydney just doesn't do transition weather) but I think I'll wear these until my feet roast off.