What? A skincare post? I'm surprised as well. I don't even have a category for this. Anyway, about 3 months ago I started on a course of isotretinoin (Roaccutane/Accutane) for my acne. I think I'll do a proper post on the whole Roaccutane thing and why I went on it once I'm nearer to the end, but for now these are all the lotions and potions I've had to buy since starting it.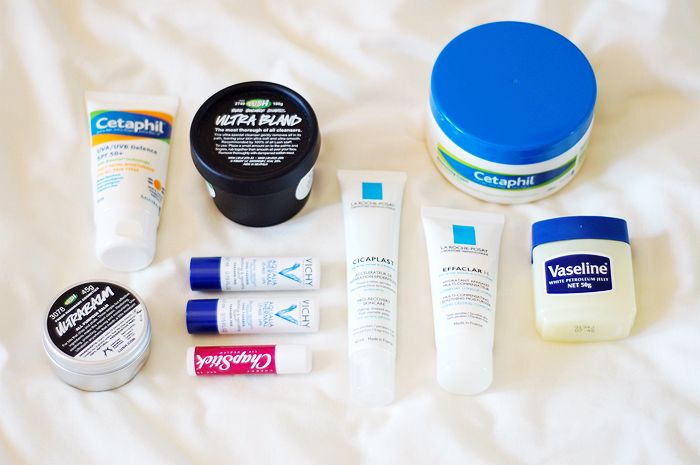 One of the major side effects is that it really, really dries out your skin and lips, so I had to do a complete 180 from acid-based cleansers and treatments to more gentle products and focus a lot more on moisturising.
Lush Ultrabland cleanser
- an oil based cleanser which you smear all over your face and then wipe off, taking makeup with it. It's a bit messy, so I use it before I shower so I can use warm water and a facecloth to take it off (then I have to wash the facecloth). It's expensive but it works for me, and I'm on my second tub.
Cetaphil SPF50+ facial moisturiser
- I use this under my makeup when I'm leaving the house. Another side effect of Roaccutane is that you get really sun sensitive, so I picked it specifically for the sun protection. It does what it says - protects and moisturises - but it's a bit thick and hard to put on, so I'm keeping an eye out for another.
Vichy and Chapstick lip balms
- I like to use stick balms when I'm out and about and can't wash my hands (I feel it's more hygienic). I'm almost out of the standard Chapsticks so I got some of the fancy Vichy ones to try out. They're a bit different, they don't leave a layer on top of your lips and kind of sink in. They have a weird smell which I sort of like.
Cetaphil face and body moisturiser
- my face didn't like this at all (I got this itchy rash), so I'm just using it on my body.
La Roche-Posay Effaclar H moisturiser
- apparently it's made specifically for people on Roaccutane. I've only been using it a week and I like it so far. It's nice and thin and goes on easily so I don't have to injure myself trying to drag it out over my face.
Vaseline
- I don't know why I included it, this is gross and no one here needs to know, but the dryness includes the skin inside your nose as well, so you start getting nosebleeds (and when I was sick, really painful nostrils because I kept blowing my nose). So I have to use a cotton bud to put a bit of Vaseline up there morning and night.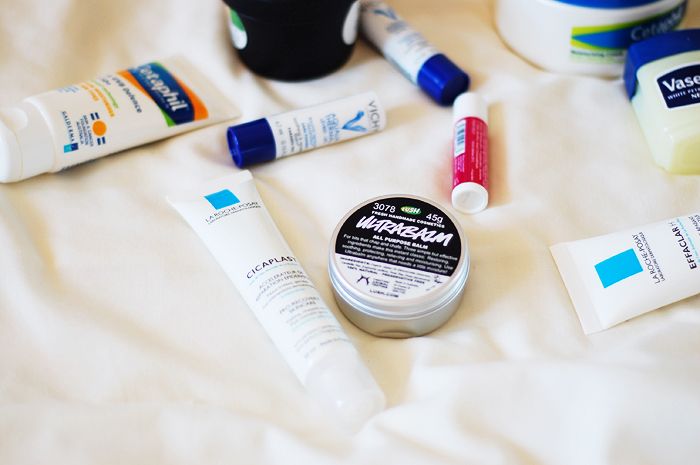 These two get a special mention because they've been complete lifesavers.
Lush Ultrabalm
- it's a balm sort of like Vaseline, I bought this to use on my lips at home but it's been a lifesaver for soothing and healing the random eczema patches (another side effect) that have sprung up on my arm. I had this weird red scaly patch of skin on my hand, but since it didn't itch I wasn't too bothered by it; when it hadn't faded after a month, I started using Ultrabalm on it and it was gone within a week.
La Roche-Posay Cicaplast skin recovery accelerator
- this stuff is my saviour. My dryness was under control until I got sick a couple of weeks ago, when I suddenly got all this flakiness out of nowhere. It was so bad, I looked like a furry animal and I was actually finding bits of flaked-off skin on my clothes (ew?). I couldn't even wear makeup to cover it, I looked horrendous. Anyway, this stuff (which is apparently made for using after chemical peels) on top of moisturiser works wonders and stopped the flakiness right away.
Tip for fellow Australians, passed on from my skincare-fiend friends - I got the Vichy and La Roche-Posay off
Escentual
, which carries loads of skincare brands for a lot less pricey than you would find here. Shipping's about £5 (it's UK-based) but it still works out cheaper (especially if you have aforementioned friends to split shipping with). They're doing 1/3 off French pharmacy products until the end of October.
I apologise if I've bored and confused you with my veritable essay about moisturising... what do you guys like to use on your beautiful faces?