A break from the travel photos to show you what I bought this time around. I say "literally" because I had to carry all this on my back. Tip from me: if you're looking to curb your shopping when you travel, ditch the wheeled suitcase and use a backpack. I didn't buy any clothes until we got to London, because anything I bought would have just been more weight I would have had to haul around. Still, I'm pretty sure I have done some sort of permanent damage because my back is still sore and occasionally spasms...
From (you guessed it) Uniqlo, a chambray button-down and a pair of jeans. I'd been looking for a chambray shirt in the right wash (the colour is a bit off in this picture), and I found it in the men's section. It's actually the best fitting shirt I own. I'm putting myself on a button-down ban now; no more! The jeans were a bit of an unnecessary buy as well, but Uniqlo does such well-fitting jeans (with free alterations) for such a good price point I thought I'd buy a backup for my other black skinny pair. These ones are superstretchy with a higher rise than my other ones, so they fit even better.
A new coat from Zara! I was looking for a navy wool coat for a while, and after looking in Zaras in every city we visited I came across this one in Munich, but waited to buy it on sale in London (where the sales are amazing). I love the tartan lining, inside pocket, and odd anchor button on each sleeve.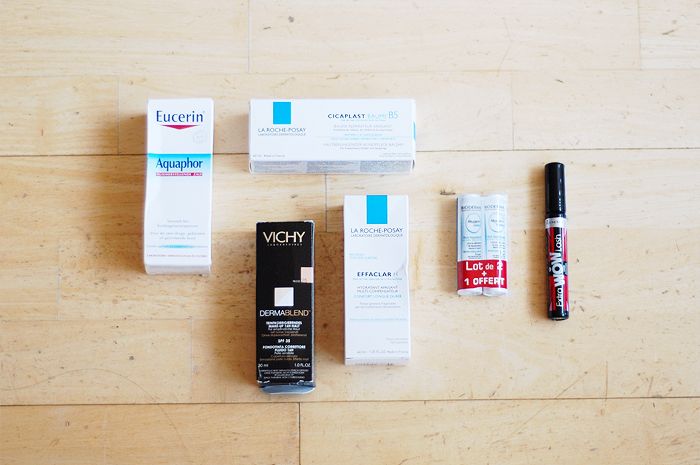 French pharmacy skincare - Effaclar H and Dermablend
I'm already using
, but I picked up Aquaphor for any cracked lips emergencies and Cicaplast Baume because the original Cicaplast has been such a miracle. I was also convinced by Wai Lam to buy the mascara at the Boots 3 for 2 sale - I'm going to branch out into mascara, because I've become too lazy to do eyeliner (which I feel takes more effort).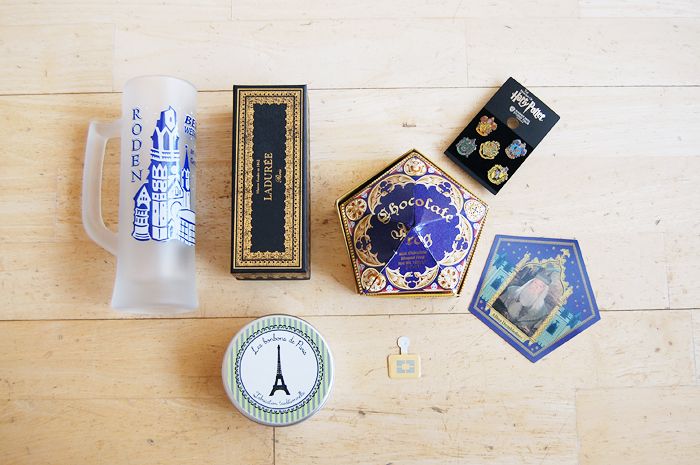 The souvenirs. Yes, food containers count as souvenirs. I don't know why I went with this heavy as hell gluhwein mug when there were smaller, cuter ones in the market. The pin is from the Pinakothek der Moderne in Munich, to match the pin from the Met I have. We also did the Harry Potter Studio tour, where I spent £8 on a chocolate frog (what was I thinking) and Wai Lam bought me these adorable Hogwarts house crest pins for a Christmas present.
Just when I finished unpacking, I have to pack again - I'm going to be leaving for China in about a week (I know I forgot to mention this) for a two week trip with my mum. I haven't been to China in almost ten years now, and I've only ever gone to Shanghai before so I'm looking forward to seeing some other cities while we're there. My Shanghainese is rusty and my Mandarin is horrific so I suppose this is a good chance to practice (my mother has threatened to make me do all the talking). I'm taking my laptop with me and will hopefully be able to post from over there (if I can get around the block), so my internet self should still be around.