So here's what I bought when I was over in China (and Hong Kong for 2 days!). Not the best effort, but I think I was all shopped out from Europe (where we shopped every day). The two in the middle were definitely impulse buys borne out of a desperate desire to buy
something
(which is always dangerous) but since they're mine now I'm going to enjoy wearing them.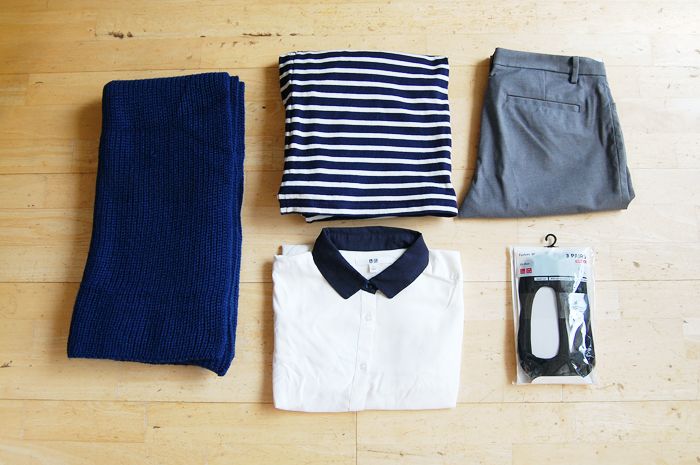 Scarf from a random stall in Shanghai - I'd been looking for a big navy knitted scarf for ages and I finally found it here. There was a tiny defect in it so my mother managed to bargain it down to $7AUD.
Contrast collar shirt and grey trousers from Uniqlo (Shanghai) - Trousers I had been looking for, the contrast collar shirt just because it was pretty. It's rayon, which drapes more nicely than cotton and lower maintenance than silk. I got it in about half a size too large, because in my experience rayon shrinks in the first wash.
Loafer socks from Uniqlo (HK) - I feel like these were a valid buy... also I managed to buy from Uniqlo off three different continents this season, without even visiting one of them. They need to start paying me for talking about them so much.
Striped dress from Muji in HK - I usually just admire the clothes in Muji because they're weirdly expensive, but it wasn't the case in Hong Kong. So I bought this dress. It's going to be my winter ugly dress, it's as flattering as a sack but I love it (I will show you when the weather cools down).
Hm, I haven't really been in a blogging mood lately. Uni's not exactly busy right now but it's all very different stuff this year so I've been busy trying to get everything organised and started for my research project. We'll see how things go!