And BOOM! All of a sudden, the weather got cold. It's almost impossible to get out of bed in the morning now, and and I have to wear two hoodies/sweatshirts as I sit at the computer at night. In Sydney we're pretty lucky with our mild winter, but our buildings weren't made to retain warmth and indoor heating is not a thing. Not complaining though, because I get to start pulling out all my winter clothes!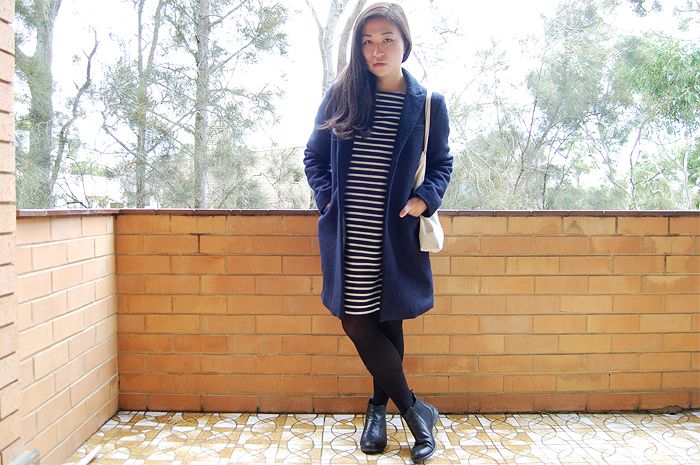 Debuting the wool coat I picked up from Zara in London (it's also in Zara Sydney now!) and striped dress from Muji in Hong Kong. Also featuring Chelsea boots from Dune. I've worn this outfit about three times this past week...
I think I'm jumping the gun with the coat, though, because I always take it off in the middle of the day - still a bit too warm for 80% wool. This is the coat with an
inside pocket
, but I always forget I've slipped my phone in there and have a moment of panic while searching through my bag.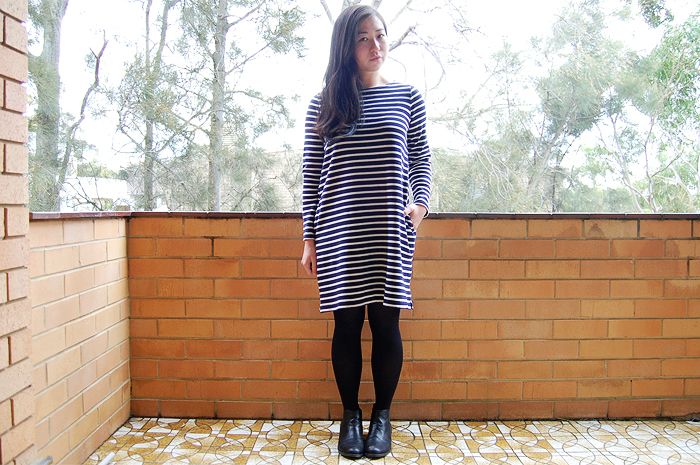 This dress was actually an impulse/desperation buy in Hong Kong, but I have no regrets at all. The shape and the horizontal stripes make this the least "flattering" dress ever, but I have
previously
made my thoughts known about the concept of "flattering" clothing. It's super comfortable and has pockets (!!!). It's made from a heavy cotton knit so definitely a cooler weather dress, and it'll be easy to slip a thermal on underneath as we go into winter.