Last night YY and I went to check out Beams festival. It was a one-night event in Chippendale, around Central Park, with art and music (as well as food, but we were stuffed from YY's favourite dumpling place). I'm not sure how many years it's been happening, but this year was the first I'd heard of it.
Lucky I had
YY
to explain art things to me.
There were installations in the small terraces along Kensington St.
A 3D thing you watch on your phone inside this headgear.
As expected, we found our way to the bar.
My new favourite drink is rum and ginger beer. Also, check out the nifty cups, sealed like bubble tea.
There were tables with blank plastic pots and paint you could decorate them with...
And take some herbs home with you in (for free)!
I have no painting skills so my basil looked like a serial killer's basil.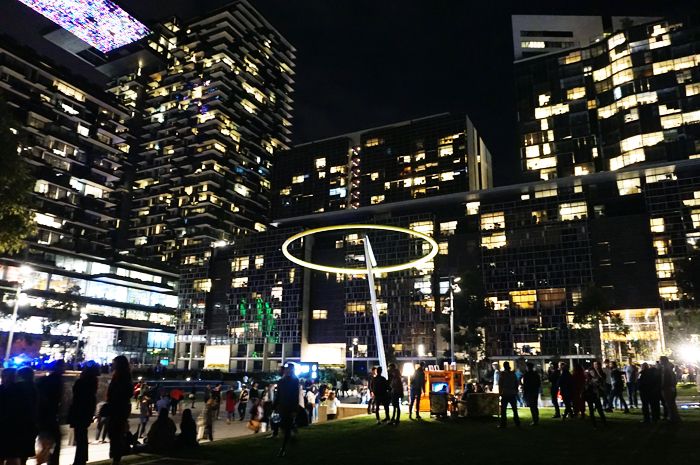 We went around the corner to the green behind the shopping centre.
There was a silent rave (look I'm basically a party photographer now).
There was more happening on the streets behind the grass.
Intermittent smoke machine usage.
Interpretive dance, which I don't understand.
A small entranceway jammed with giant balloons...
Music YY was really digging.
I'd never actually set foot into this part of the city before last night. I'm thinking Chippendale isn't this exciting every night, but it had us drafting plans to move there.
Overall, it was heaps of fun! It was a great atmosphere but it wasn't overly congested. I'd say it attracted more of a young-adult crowd than a family one (like Vivid does). I love events like these, especially when they give you a new perspective on Sydney.